Eurozone crisis: the bankers are happy to play Nero as Europe burns [The Guardian]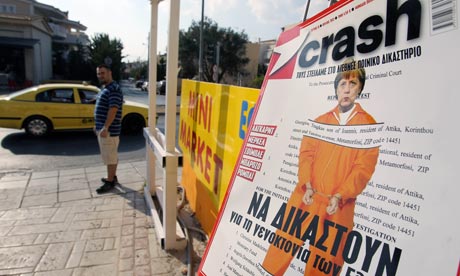 In Athens, Angela Merkel is seen handcuffed on the cover of the magazine Crash. The headline demands that European leaders be 'tried for genocide of the Greeks'. Photograph: Thanassis Stavrakis/AP
While Rome burned, Nero put on fancy dress, stood on a tower and played his lyre. He sang of the Sack of Ilium and roasted Christians at the stake to light up his party. The people were taxed to pay for his extravagance, but he appeased them with games of ever increasing spectacle and sadism. He clad slaves in deerskins and had lions eat them. It was immensely popular. When Nero duly fell from grace and committed suicide, he cried: "What an artist dies in me."
I like the Olympics now that athletes have taken over from fatcats on centre stage, but the media coverage is disproportionate, idiotic and Orwellian. Never has the BBC in particular purveyed such nationalistic opium to the people. Is it really necessary to ignore all news of the city burning for the duration?
Last weekend a small island off the coast of Schleswig-Holstein saw the American treasury secretary, Tim Geithner, and the German finance minister, Wolfgang Schäuble, attempt a feat as yet unknown to the Olympics. It is called "save the euro". This marathon is being played simultaneously and in real time by bankers and politicians in all Europe's capitals, while a claque shouts "two weeks to save the euro" over and over again.
I have a stack of "two weeks to save the euro" cuttings dating back to early 2010. It is a morgue of daft subjunctive journalism. Every known disaster "could" be about to happen. Germany "may decide" not to bail out Greece. Spain "may need" a bailout, or the euro "could" be heading for the rocks. According to this week's Economist, yet another Athens visit by the EU's José Manuel Barroso means a Greek exit from the euro "could occur within weeks". Of course it could, or not.