In the aftermath of the financial crisis, the oracles of money and banking have been beating the drums for "recapitalization" — telling us that, to avoid future crises, banks must be made stronger. To accomplish this, governments across the developed world are compelling banks to raise fresh capital and strengthen their balance sheets. And, if banks can't raise more capital, they are told to shrink the amount of risk assets (loans) on their books. In any case, we are told that one way or another, banks' capital-asset ratios must be increased — the higher, the better.
Virtually all the establishment figures in economics and politics have jumped on this bandwagon. In 2010, the world's central bankers, represented collectively by the Bank of International Settlements (BIS) handed down Basel III — a global regulatory framework that, among other things, hikes capital requirements from 4% to at least 7% of a bank's riskweighted assets.
For some time, I have warned that higher bank capital requirements, when imposed in the middle of an economic slump, are wrong-headed because they put a squeeze on the money supply and stifle economic growth. As we can see in the accompanying table, this is cause for concern, because the quantity of money and nominal national income are closely related.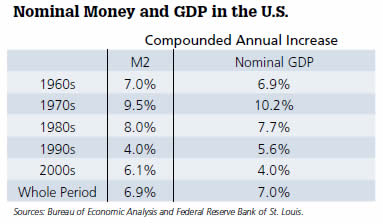 Not surprisingly, as banks have pared their balance sheets in anticipation of Basel III's 2013 implementation, broad money growth in most participating economies has stagnated, at best. The result, thus far, has been financial repression — a credit crunch. This has proven to be a deadly cocktail to ingest in the middle of a slump.
One would think that upon observing the miserable results of their labor over the past few years, the oracles of money and banking would now be looking to undo their blunder. Or, at least they would begin to question the efficacy of the recapitalization frenzy.
On the contrary, central bankers (BIS, the Bank of England, the Fed, etc.), along with an alphabet soup of regulatory bodies — from Britain's Financial Services Authority (FSA), to the United States' Financial Stability Oversight Council (FSOC), to the G20's Financial Stability Board (FSB), to the European Union's European Banking Authority (EBA) — have begun to clamor for yet another round of hikes in bank capital adequacy requirements. The most recent calls have come from outgoing Bank of England Governor Mervyn King, who, as we will see, is among the "founding fathers" of the recapitalization movement. Why would the oracles want to saddle the global banking system with another round of capital-requirement hikes — particularly when Europe has just gone into a doubledip recession, and the U.K. and U.S. are mired in growth recessions? Are they simply unaware of the devastating unintended consequences this creates?